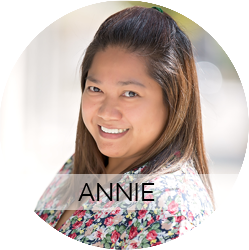 Annie Bautista
I am the Creative Team Liaison at Picture This Studios. I first moved to the Cayman Islands one year after graduating with a Bachelor's degree in Computer Data Processing Management. It was at this time that I was given the incredible opportunity to live and work in Grand Cayman and I have not looked back since! Now, fifteen years later, I am proud to call this beautiful Island my second home and, I am even more proud to now be a wife and mommy to a 15-month old toddler!
I have always had a passion for arts and crafts which, combined with my years of retail experience, has been instrumental in my role at Picture This Studios. I am extremely honored to be a part of such an amazing and creative team! For us, it's not just about the quality of service we provide but also about building relationships. Every picture we take is special to us and each time you are captured in a photo or video we truly appreciate that you have allowed us the privilege to be a part of that special moment in your life.
Let me help you select the images you love and construct a print package that best suits your lifestyle whether it be an album, prints, wall art collection or simply a copy of the high resolution images. I love photography (and coffee) and am always happy to sit, chat and assist our clients in any way I can.
Let me help you tell your story.